i am going to lose count of all the red carpet events if it carries on like this...
last night bought us both the BAFTA's and the Grammys. i was going to do a post on both, but i was caught up in so much lust for Anne Hathaway's BAFTA dress that that's probably all I would have spoken about, so i went scouring for the Grammys red carpet arrivals pictures, and came across these beauties. every website i had a look on seemed to have picked out the same people for the best red carpet looks, so i've tried to pick out a few different looks and thrown in a couple from the boys at the end.
if you enjoy this kind of post, then i recently posted the best dressed from the
People's Choice Awards
and the
Golden Globes
. i'm sure the Oscars are coming up in a couple of weeks too, so keep your eye out around then for another post!
Katy Perry // Gucci Pre-SS13
i was torn on whether to put this in here or not - i LOVE the dress, and especially the fresh colour, but i'm not keen on the cut-out section. either get rid of it, or put it somewhere more flattering, i just don't like the look of boobs all over the place. but it's Katy Perry, and this is a subtle look for her, so I'll let her off... just this once.
Alexa Chung // Valentino Red
i think this is the favourite of the looks in this post - it's just so toned down and simple. it's such an effortlessly feminine look - literally just a dress and shoes - but there's something about it which has made me fall in love. maybe it's the slightly windswept-esque hairstyle or the pop of colour on the lips? i don't know, but can I be Alexa now, please?
Adele // Valentino Couture SS13
it is so nice to see Adele in colour! she always seems to drown herself out in black, but this Valentino piece has helped her stake her claim at the top of the fashion pack walking the red carpet events. She looks so much more vibrant and lively - please don't go back to black!
Rihanna // Custom-made Azzedine Alaia dress, Neil Lane jewelley Manolo Blahnik shoes
i'll put it out there straight away - i'm not a Rihanna fan, music or fashion-wise, but she looks so beautiful with a natural, feminine hair and make-up combo. i find it weird that this is even the same person to a lot of the candid shots that are always all over the press, but i guess this is the art of the stylist. this is up there with Alexa for me as the ultimate look of the night.
Beyonce // Osman Yousefzada jumpsuit, Swarovski clutch & Lorraine Schwartz jewellery
Thankyou, Queen Bey, for showing the world that you don't have to wear an extravagant dress or show off more flesh than necessary to rock the red carpet. And with monochrome being a huge trend on the fashion-scene, this look is effortlessly fashionable.
Kaley Cuoco // Armen blazer and Stark clutch
Amen to another dress-avoider. I loved Kaley's looks at the PCA's, and i think she's definitely one to watch for outfit inspiration - leather look trousers and disco pant style trousers are slowly becoming a staple piece in so many girls wardrobes, that it's nice to see how everyday pieces can be dressed up again.
Justin Timberlake // Tom Ford
If there was a picture of Justin & Beyonce together they would be tip-top on trend with their synchronized monochrome looks. i'm guessing i should finally go and listen to suit & tie now?!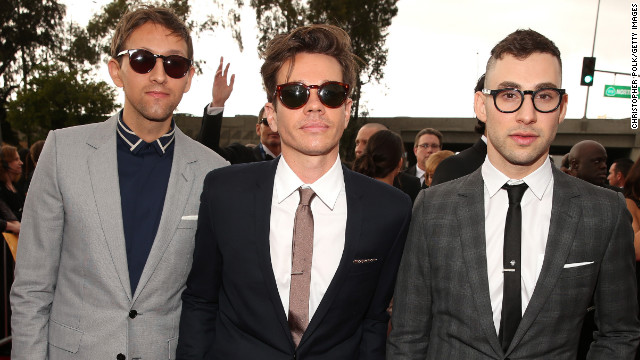 Nate Ruess (Centre) // Unknown (sorry!)
I couldn't find a full length picture of Nate (of Fun. fame, for anyone who doesn't know) anywhere, but i liked his top half, so here he is. that is all. i think it's his tie?! i guess this is officially a note to all men attending red carpet events in the future - if you wear a nice tie, it will probably make me fancy you a little bit...
so there we go! i know the dress-code was fairly strict for this years event, so there wasn't anything a bit OTT or daring (unless you want to count J-Lo doing an Angelina Jolie and getting just one leg out). see you in a couple of weeks for the Oscars!