hello guys :)
yesterday was the day that i finally gave in and went to get my tattoo done! i saw a stunning picture on tumblr which really made me want to get mine done.
inspiration picture!
i went to get it done with Rosie (aroselikethis.blogspot.com) and if i'm honest, we were both pretty terrified when we got there. i wasn't really sure what kind of pain i was expecting as we'd heard from some people who said it didn't hurt at all and others who said it was the worse pain ever! but i was pleasantly surprised - i wouldn't say that it hurt at all, it's more the noise that's off-putting! the way i described it to Rosie (because i went first) was like someone holding an electric toothbrush to your ear - a weirdly soothing sensation! it is a little scratchy, but nothing unbearable.
the final outcome - i never knew i had such unattractive ears!!
so here it is! in all honesty, i kind of with it was more in line with my hairline like the picture i took in, but i think it's much more visible where it is and i'm still absolutely in love with it! this was taken right after it was done so it's a little bloody and disgusting - sorry! i will probably post up another picture once it's healed a little more too!
but here's the best bit... i've always wanted a wrist tattoo, but been a little nervous about how exposed it is for jobs in the future etc. anyway, i thought i'd quickly ask the tattoo guy how much extra he'd charge for a teeny little tattoo on my wrist as i didn't want to pay minimum charge for something so tiny another time - and he said he'd do it FREE OF CHARGE! how could i resist?! so this is the second little one...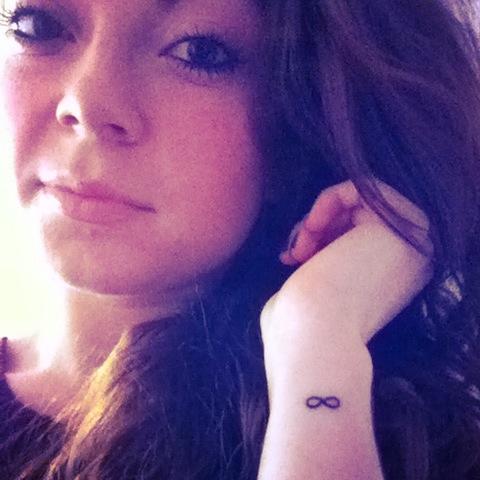 it doesn't particularly mean anything, but i've always liked the idea of the infinity symbol and that it's never ending.
so yesss... there they are! i've definitely caught the tattoo bug, i just need to decided what/where i want next time!
enjoy!